Welcome to Jaron Lanier's Music

---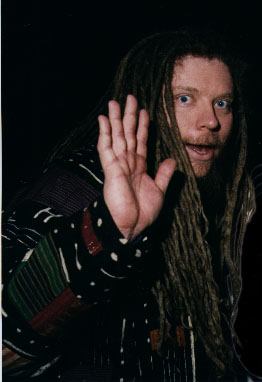 Click
here
for Jaron's BIO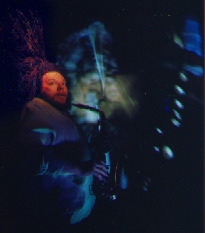 Jaron playing the saxophone, with the virtual cybersaxophone in the background.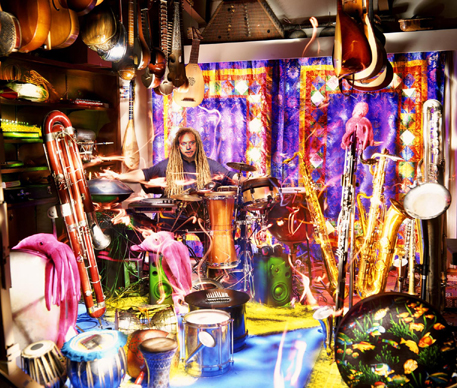 Portrait by
Dean Chamberlain
of Jaron in his studio with some of the many instruments he plays.
---
Thanks for visiting my recent music/music in progress page. What kind of music is here? Not what you're used to, but here are some recommendations. If you like pleasant acoustic music- the sort of stuff they play at Starbucks, no insult intended- try Daredevil first. If you like electronic music or movie soundtracks, try some of the tracks from the Science Fiction project. But if you like to listen to music intensely on good equipment, not while you're driving or working, but as the sole activity of the moment, then give a listen to some of the tracks from "Proof of Consciousness," especially the harpsichord suite.


Note this stuff is protected by copyright.
---
Music from 2007
Fatherhood has meant a lot less live performance
Have started making these quick piano-based recordings, a piano blog, if you will...
This one was done on May 28 - simple enchantment - added contralto clarinet and sitar plus digital ornamentation
This one was done on May 19 - purgatory's dive bar music - added alto sax plus digital ornamentation
This one was done on May 8 - giddy morning waltz with digital ornamentation
This one was done on May 5- gothic with digital ornamentation
This one was done on May 3 - deep of night with digital ornamentation
This one was done on April 27 - plain old piano in the afternoon - had hurt my hand so less flying around the keyboard than usual

---
Live music recordings from 2006



2006 was an active and delightful year for me and music. I'll be posting more live tracks from this year soon, but here are a few from various concerts as a start:

June 2 in Toronto with Arraymusic

Daredevil

was commissioned by

Arraymusic

, the superb Canadian new music chamber ensemble. This performance took place in the Great Hall of Hart House on the University of Toronto campus.

In the first section I'm playing a rare instrument called a Claviola and the piano at the same time. Then I'm playing a set of overtone flutes (similar to the Sami seljefloyte) that I got from some Hungarian Roma kids a long time ago- but am no longer at the piano. In the last section I'm playing the Laotian khaen.




April 28 in San Francisco with Keith McMillen of

TrioMetrik

In this duet

I'm playing Khaen and Keith is playing his highly augmented guitar, which both makes it's own sounds and reconstructs the sounds from my instrument in real time.




Will Calhoun

showed up at the

Luggage Store Gallery

in San Francisco, and we played a duet that was reminiscent of the music we used to play in NYC.

I'm playing soprano sax and Will is playing the wavedrum in this clip: here is the

audio

, and here is the

video

The World Premiere of the ballet Earthquake performed by

Diablo Ballet

took place on April 5, 2006 at the Yerba Buena Center for the Performing Arts in San Francisco to commemorate the 100th anniversary of the 1906 earthquake. This work was sponsored by

Computers & Structures Inc.

, and the East Bay Community Foundation and choreographed by Diablo Ballet's Co-Artistic Director/Choreographer

Nikolai Kabaniaev

with an original sound score by Jaron Lanier, Michael Bemesderfer and Nikolai Kabaniaev.



---

From a Science Fiction Project








---

SUB ULTRA

Richard Horowitz and I are working on an album called SUB ULTRA



This track

has Richard on piano (with synthesizers following the piano, which is possible because it is a Disklavier) and me on an extremely rare wind instrument, the bass version of the Armenian duduk.

In this track

Richard is on piano and I am playing a contrabass clarinet.
---
All content on this site copyrighted.

If you want to use any of this stuff commercially
or display it publicly, please contact me by email:

you can figure the following out, right?

jaron at the domain of jaronlanier dot com


---
Back to Jaron Lanier's homepage