Dawn of the New Everything
Web resources related to "Dawn of the New Everything"
The Sound of One Hand
Towards the end of my new book, Dawn of the New Everything, there's a description of a piece of music I used to play from inside VR. What you see here is a period video of one of my performances of that piece.

You might wonder why the quality is terrible, and that means you're young. Back during the period described in the book, it was often hard to directly capture real time computer graphics.

In this case we had to point an analog video camera at a CRT. Ugh!

CRT means "cathode ray tube." They were the only kinds of monitors we had; giant, heavy things that made fuzzy, flickering images. I used to get headaches from them.

The CRT and the camera both operated through scanning, but they couldn't always be synced. That meant that you couldn't always hook the cable that went to the monitor to an analog tape deck. This was one of those times.

You just have to find it within yourself to see charm in the artifacts, like the crackle on an old painting. Since real time computer rendering was kind of raw back then, maybe the crudeness of the transfer adds a little life and is even an improvement, at least if you squint.

Don't gloat just because you live now instead of then. Someday, future people will look at the records we leave of what we do today, and they'll have to make the same mental adjustment. We're all on the same train.

Anyway, the video capture is the feed from one of my eyes, I think the left one. This might have been the first real time virtual world that included morphing, radiosity, and moving light sources all at once. It ran on a wall of refrigerator-sized Silicon Graphics machines that roared in order to not overheat. The setup for this video cost around a couple of million dollars in 1990, not adjusted for inflation.

It might be hard to make sense of what I'm doing and how the instruments work without reading the play-by-play in the book, so consider getting the book.

I hope you find this ghost of digital antiquity to be real art, not just a demo, but that's not up to me to decide.
Here is an excerpt of "Dawn of the New Everything" from Salon
Reviews of "Dawn of the New Everything:"
"Dawn of the New Everything isn't really about VR; it's about what we do next, as the future of technology unfolds. Lanier wants us to embrace machines that are made for humans, rather than for a world without us."
— Annalee Newitz, NPR.org

"Wild…Full of strange and mesmerizing stuff."
— Maureen Dowd, The New York Times

"Part ­coming-of-age chronicle (he lived with his father in a DIY geodesic dome), part swinging Silicon Valley memoir (rich anecdotes from his time at VPL), and it's stuffed with enough fantastical soothsaying to fill a Holodeck. Or at least an expansive, occasionally vaporous conversation in avatar-free meatspace."
— Peter Rubin, Wired

"It pulses with kaleidoscopic insight, recondite science and deeply felt opinions — a rejoinder to singularity-struck "digital supremacist[s]." It also contains some of the more artful, numinous writing you'll find on technology."
— Stephen Phillips, San Francisco Chronicle

"Essential reading, not just for VR-watchers but for anyone interested in how society came to be how it is, and what it might yet become." — The Economist

"Lanier is more self-deprecating and self-reflective than the typical Californian tech maven, and too self-critical and self-aware to play the role of blinkered advocate. The result is a more studied and nuanced interrogation of VR's potential, as well as a gentle critique of what he sees as a failure of imagination when it comes to the medium's current proponents. His young life combines tragedy, whimsy and peril in ways that might seem far-fetched even for a David Lynch film."
— Simon Parkin, The Guardian

Nature

The Washington Post


Recognition of "Dawn of the New Everything:"
Included in Ezra Klein's "The best books I read in 2017"

Included in The Guardian's Reviews roundup

Included in Waterstones' Top Books for Christmas 2017

Included in the National Book Review's 5 Hot Books

Recommended book on GeekWire

Included in The Economist's Books of the Year 2017

Amazon Best Book of November 2017


Interviews with Jaron:
ttt – titel, thesen, temperamente (on Germany's ARD network)
with E. Glen Weyl for Logic Magazine
Tom Ashbrook on WBUR's "On Point"
Rana Mitter on BBC's "Free Thinking"
Kent Bye on the Voices of VR Podcast
Todd Zwillich on WNYC's "The Takeaway"
An interview with Maureen Dowd of the New York Times
...and a round of "Confirm or Deny" (also with Maureen Dowd)
Around the Web
VR and the Problem of How We Talk About Tech
- A piece written by Jaron on Medium, published January 31, 2019
Anatomy Of A Robot Revolution: Tracing The Origins Of Intuitive Surgical And iRobot
- Stephen Delaporte, Forbes on September 24, 2018
A video of Jaron speaking about "Dawn of the New Everything" in Sinespace, Unity 3D-based social VR/MMO world (May 2018)

"Jaron Lanier Explains What Could Make VR 'A Device Of Nightmares'"
- UploadVR's coverage of Jaron's Sinespace discussion

360 Video on the New York Times

Jaron quoted to help define 2018 Burning Man Art Theme
Where to purchase "Dawn of the New Everything" in the US:
Where to purchase "Dawn of the New Everything" in the UK:
...or you can purchase through an independent bookseller near you!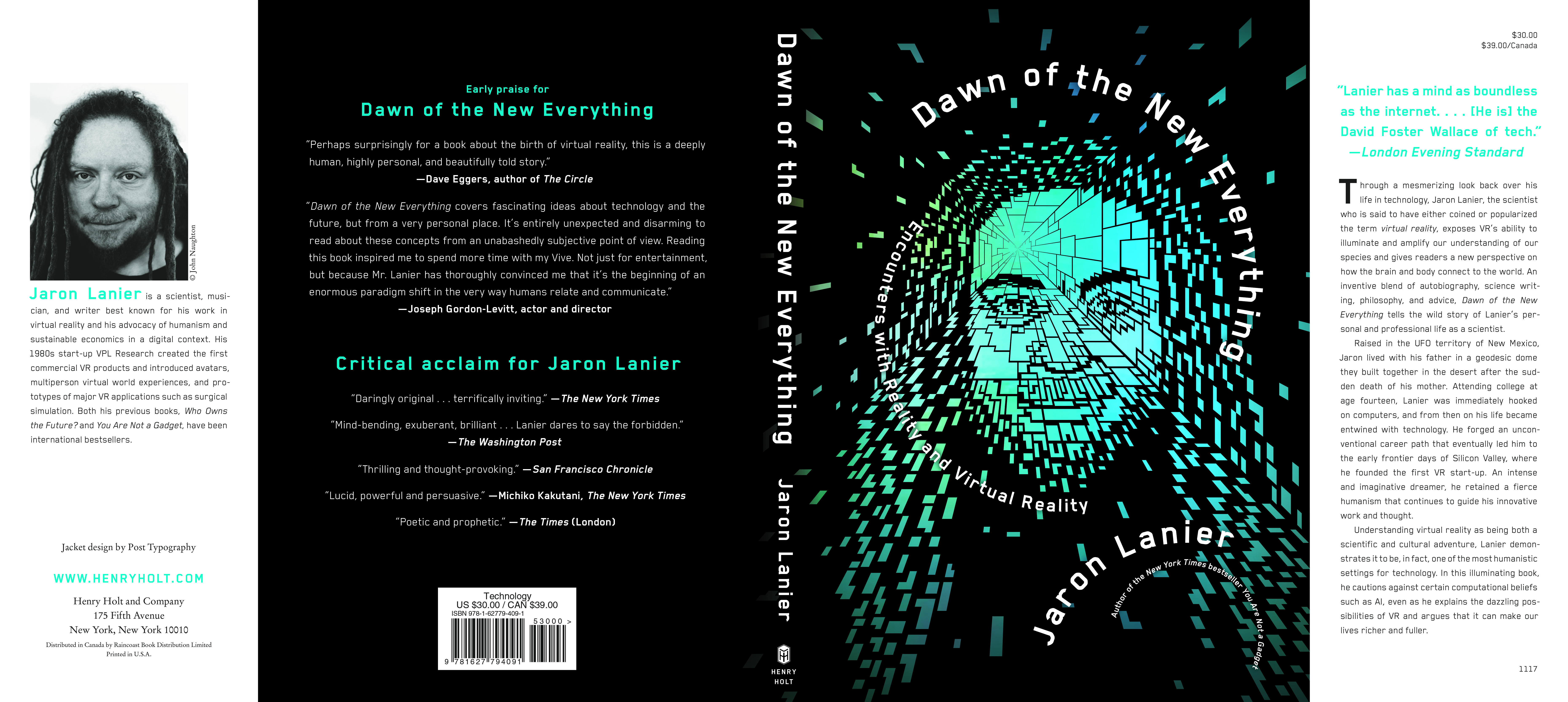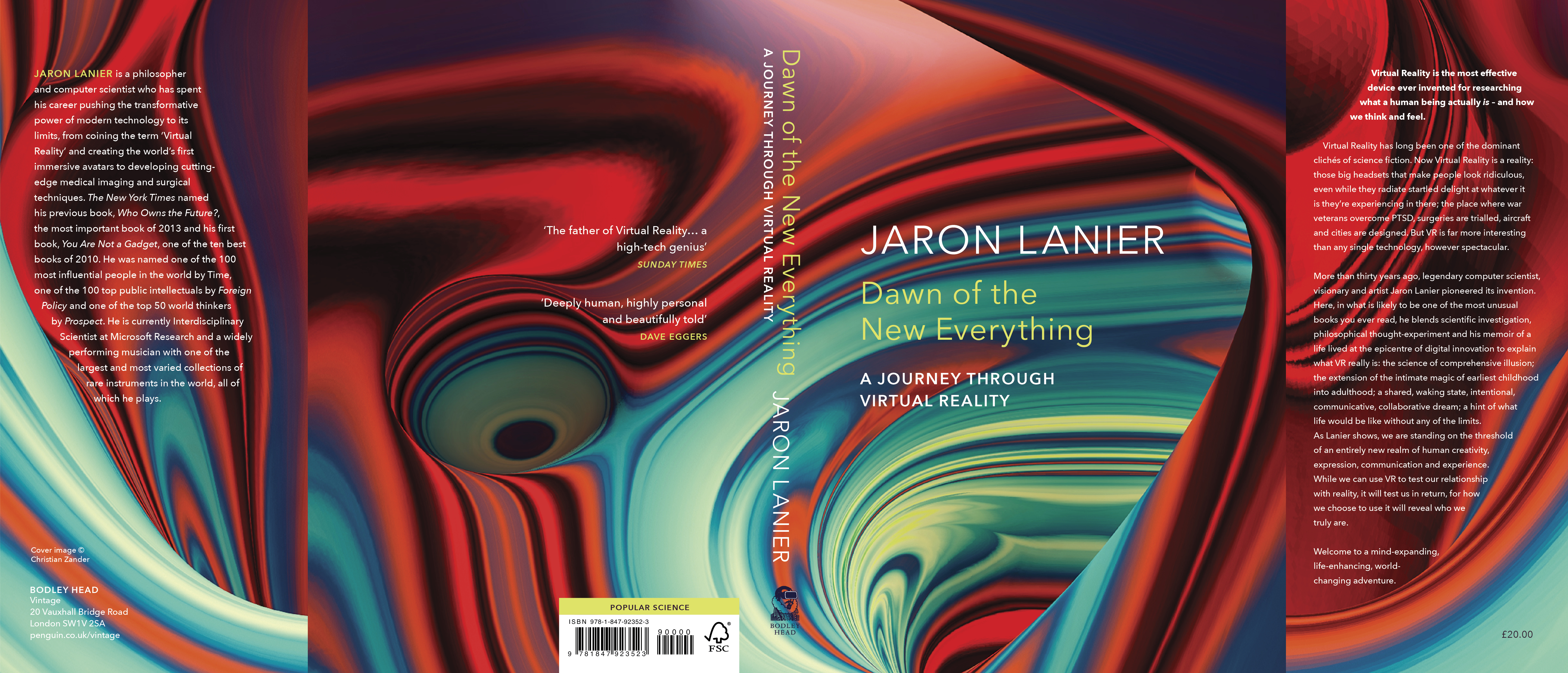 ---

Go back to Jaron's home page.