Who Owns the Future
"The most important book I read in 2013 was Jaron Lanier's 'Who Owns the Future?'"
— Joe Nocera, Op-Ed columnist for the New York Times

"Everyone complains about the Internet, but no one does anything about it...except for Jaron Lanier."
— Neal Stephenson, bestselling author of Reamde and Cryptonomicon

"Who Owns the Future? explains what's wrong with our digital economy, and tells us how to fix it. Listen up!"
— George Dyson, bestselling author of Turing's Cathedral

"Who Owns the Future? is a deeply original and sometimes startling read. Lanier does not simply question the dominant narrative of our technological age, but picks it up by the neck and shakes it. A refreshing and important book that will make you see the world differently."
— Tim Wu, author of The Master Switch

"This book is rare. It looks at technology with an insider's knowledge, wisdom, and deep caring about human beings. It's badly needed."
— W. Brian Arthur, author of The Nature of Technology




Web resources related to "Who Owns the Future"
Video clips of Jaron's interviews:
A preview of an interview with Deepak Chopra, set to air March 2014:
- ..One World..
An interview with Paul Holdengräber, Director of the New York Public Library:
- 5 minute video excerpt, Full 90 minute audio
A PBS Newshour discussion with Hari Sreenivasan and Andrew McAfee:
- What role does the human touch play in the digital age?
Jaron's talk at MIT on March 05, 2014:
- Media Lab Conversations Series
A brief interview on CNN Money:
- Getting real with the father of virtual reality
Interview with Paul Solman, PBS Newshour: "Should the Government Pay for Information It Collects About Its Citizens?"
Material written by Jaron:
A piece for Scientific American:
- How To Think About Privacy
An opinion piece for The New York Times on June 8, 2013:
- Fixing the Digital Economy
This is a short intro from Jaron to a few of the ideas in the book:
- Wired Magazine, April 05
An op ed written for The New York Post:
- Own the future!
An "Viewpoint" written for Time:
- Does Facebook Owe Its Users Money?
An essay written for BBC News Business:
- Sell your data to save the economy and your future
A piece for The Nation:
- The Meta Question: What is the NSA doing with your metadata?
An article from Future Tense and Slate:
- Justice for Alan Turing? The legendary computer scientist and codebreaker may finally receive a posthumous pardon. So what?
An opinion piece for The New York Times on November 27, 2013:
- Digital Passivity
An article in The Guardian on May 30, 2014:
- Google's car would give it even more remote control over us
An article for Frankfurter Allgemeine Zeitung on April 24, 2014:
- Whoever owns our data will determine our fate
Another article for Frankfurter Allgemeine Zeitung on June 01, 2014 (in German):
- Die bittere Pille Demokratie (The bitter Pill Democracy)
An opinion piece for The New York Times on June 30, 2014:
- Should Facebook Manipulate Users?
Reviews of "Who Owns the Future:"
Named 11th Best Book of 2013 by Amazon.com
Named Best of 2013 "Politics and Current Events" by iTunes
"Lanier makes a persuasive case, and it's hard to dispute his suggestions for the future until we get there."
- The Telegraph
"Jaron Lanier is a digital visionary with a difference."
- The Observer
"Lanier has a poet's sensibility and his book reads like a hallucinogenic reverie, full of entertaining haiku-like observations and digressions."
- Financial Times
"… one of the triumphs of Lanier's intelligent and subtle book is its inspiring portrait of the kind of people that a democratic information economy would produce. His vision implies that if we are allowed to lead absorbing, properly remunerated lives, we will likewise outgrow our addiction to consumerism and technology. Lanier's New World is founded on hard, fulfilling work. He concedes that such a radical reorganisation of worth will demand from us new levels of maturity, discipline and collective responsibility – but then who said dignity should be downloadable for free?"
- The Guardian, February 27
The Plain Dealer, Cleveland.com
Columbia Journalism Review discussion including books from Gavin Newsom and Evgeny Morozov
Included in Janet Maslin's roundup of beach reads in the New York Times
Included in the Washington Post's "Summer reads for business leaders"
Awards for "Who Owns the Future:"
Jaron was awarded the 2014 Peace Prize of the German Book Trade for "Who Owns the Future".


German articles:
Die Zeit

Süddeutsche

Frankfurter Allgemeine Zeitung (editorial by Frank Schirrmacher)

Kaufhaus der Weltwirtschaft


English article:
"Who Owns the Future" won the 2014 Goldsmith Award from the Harvard Kennedy School of Government.




"Who Owns the Future" won top honors at the 2014 San Francisco Book Festival.
Interviews with Jaron:
An interview with Scientific American
Q&A with San Francisco Magazine
Interview/review from the LA Times
Q&A with Nieman Journalism Lab
Excerpt from an Interview with Paul Solman, PBS Newshour: "Widening the Experiential: Jaron Lanier Explains Virtual Reality"
Another excerpt from the Interview with Paul Solman, PBS Newshour: "Why Government Should Be Paying You for Your Information"
Marketplace Tech interview, "Should the NSA send you a check when they wiretap you?"
שתף, אכלת אותה (Share It, You Blew It)
Interview with Knowledge@Wharton (University of Pennsylvania)
The Fiscal Times: "Facebook and the Extremely Creepy Possibilities for Virtual Reality"
Profiles of Jaron:
This is The Smithsonian Magazine's profile of Jaron, written before the release of Who Owns the Future? At that time the book was to be called "The Fate of Power and the Future of Dignity", so that's the title mentioned in this piece:
- Smithsonian Magazine
An account of an event featuring Jaron and EDM stars:
- Magnetic Magazine
"Virtual Reality Startups Look Back to the Future":
- Product Design & Development
Audio clips of Jaron:
The Guardian Science Weekly (podcast)
WNYC-FM, The Leonard Lopate Show/
An interview with Diane Rehm, NPR
Jaron's talk at the Free Library of Philadelphia
An Interview with the Wisconsin Public Radio
A talk at the Commonwealth Club of San Francisco, CA.
Radio interview with Boston's NPR, WBUR: "Should We Get Paid For Our Online Data?"
Interview with KCRW's podcast, "This... Is Interesting"
Another interview from KCRW, "In the Age of Big Data, Is Privacy No Big Deal?"
In conversation with Jeff Jarvis on WNYC's The Brian Lehrer Show: "What to Actually Worry About When it Comes to Your Privacy"
Video clips of Jaron's lectures:
This is a video of Jaron talking about one of the chapters in the book while he was writing it in 2011:
- Local-Global Flip
This is another video of Jaron from while he was writing the book, at the Personal Democracy Forum in 2012:
- How to Not Create a New Cyber Plutocracy
Jaron as the keynote speaker for NIU's Celebrating Excellence event:
- NIU Today
Jaron's talk at Berkeley Labs on June 20, 2013:
- Berkeley Lab's NUFO Dinner
Recent documentaries with appearances from Jaron:
Excerpts of "Who Owns the Future:"
The Real Danger of Copying Music (It's Not What You Think)
This EULA Will Make You Rethink Every App and Online Service You Use
Advertising and The Future of the Less-Evil Internet
Hello, Hero (introduction to book)
Strategy+Business' "Author's Choice" excerpt, with an introduction by George Dyson
Material responding to "Who Owns the Future:"
The Sacramento Bee Editorial Board published an op-ed drawing from "Who Owns the Future" and Jaron's 2018 book "Ten Arguments for Deleting Your Social Media Accounts Right Now."
- "Your data is worth billions. Can Newsom make tech giants like Facebook and Google pay up?"
Three new books inspired by "Who Owns the Future"
"The most important book I read in 2013 was Jaron Lanier's "Who Owns the Future?"
- op-ed by Joe Nocera in The New York Times
The New York Times op-ed by Maureen Dowd from May 20, 2014
Another New York Times op-ed by Maureen Dowd from July 8, 2014
...and a Business Insider article about Dowd's July 8 op-ed
Where to purchase "Who Owns the Future" in the US:
Where to purchase "Who Owns the Future" in the UK:
...or you can purchase through an independent bookseller near you!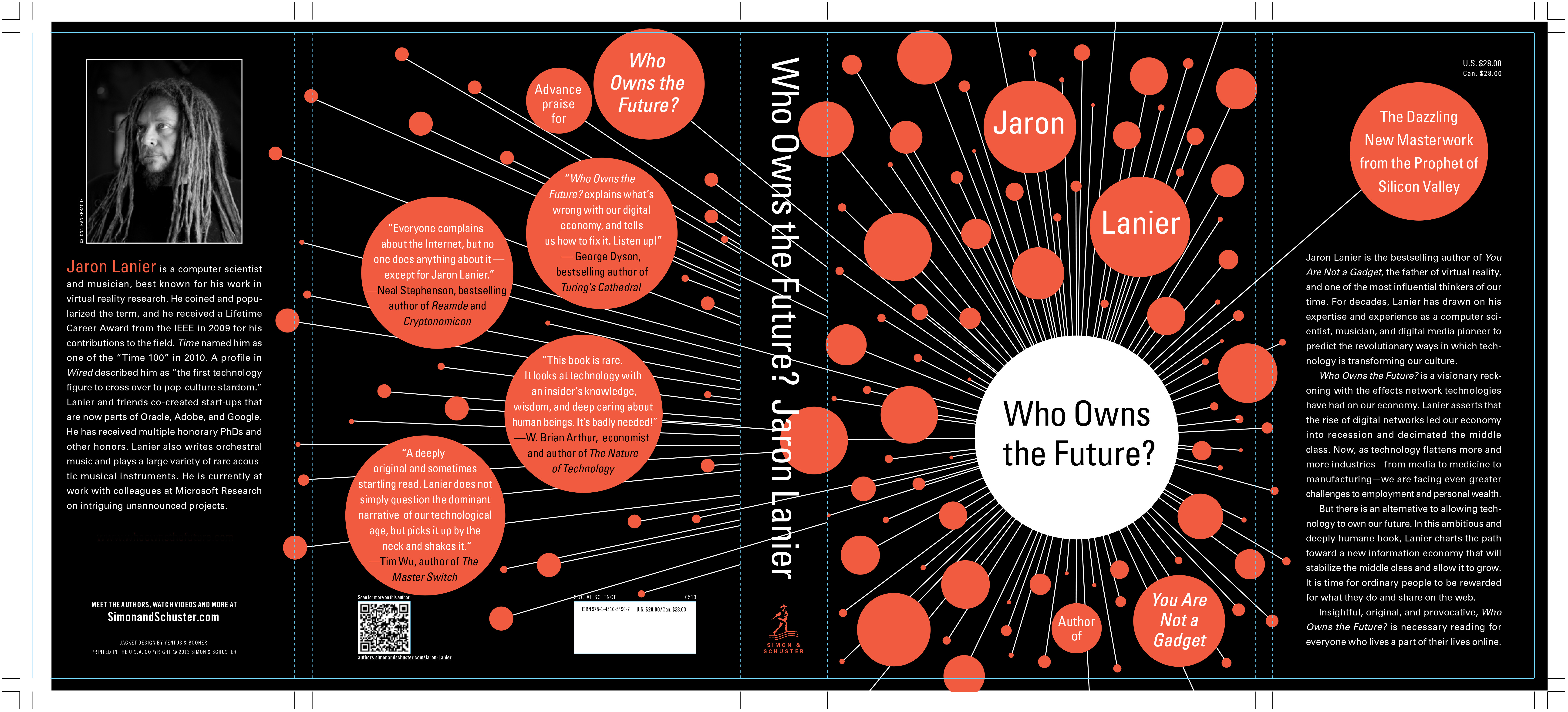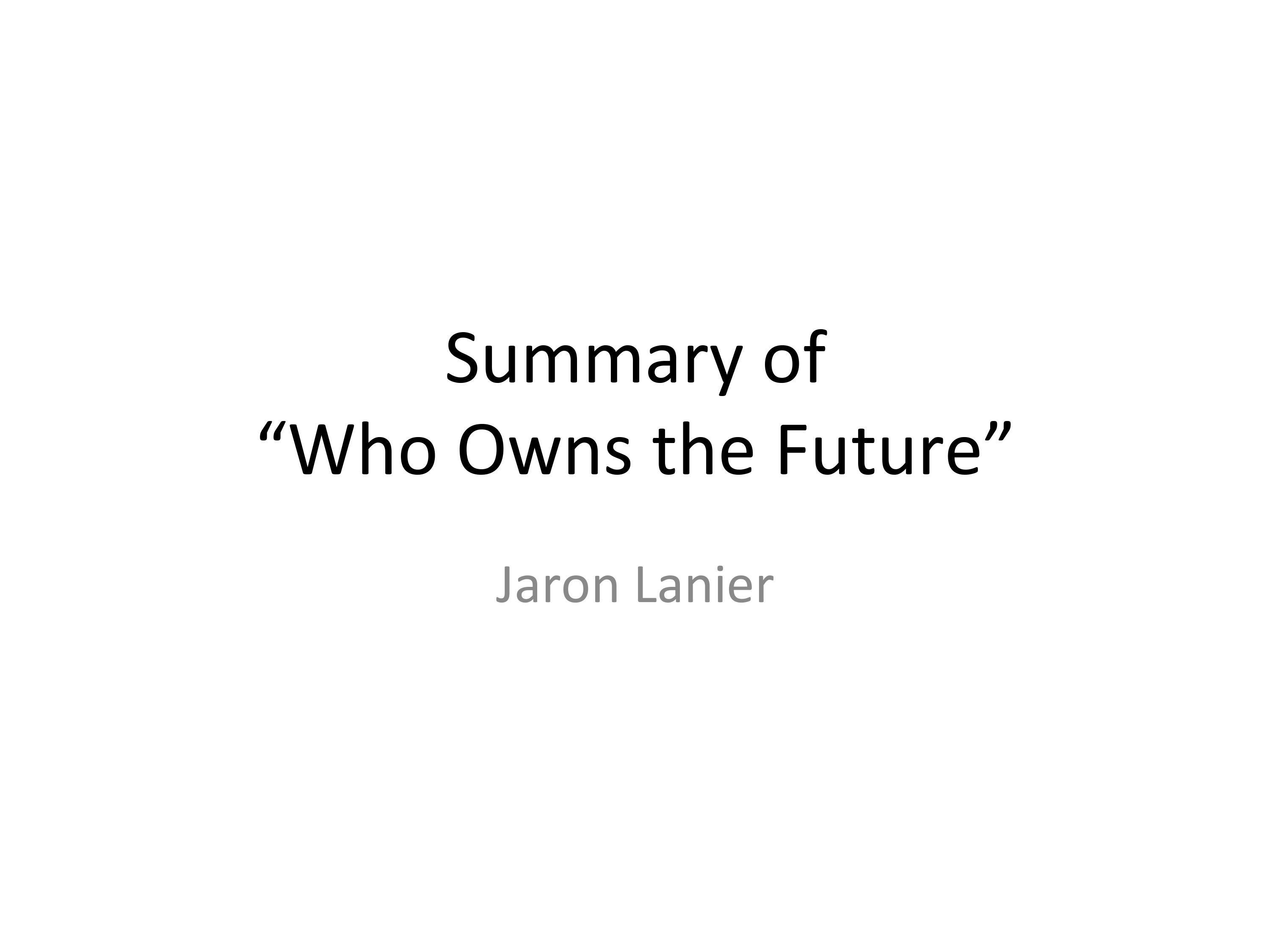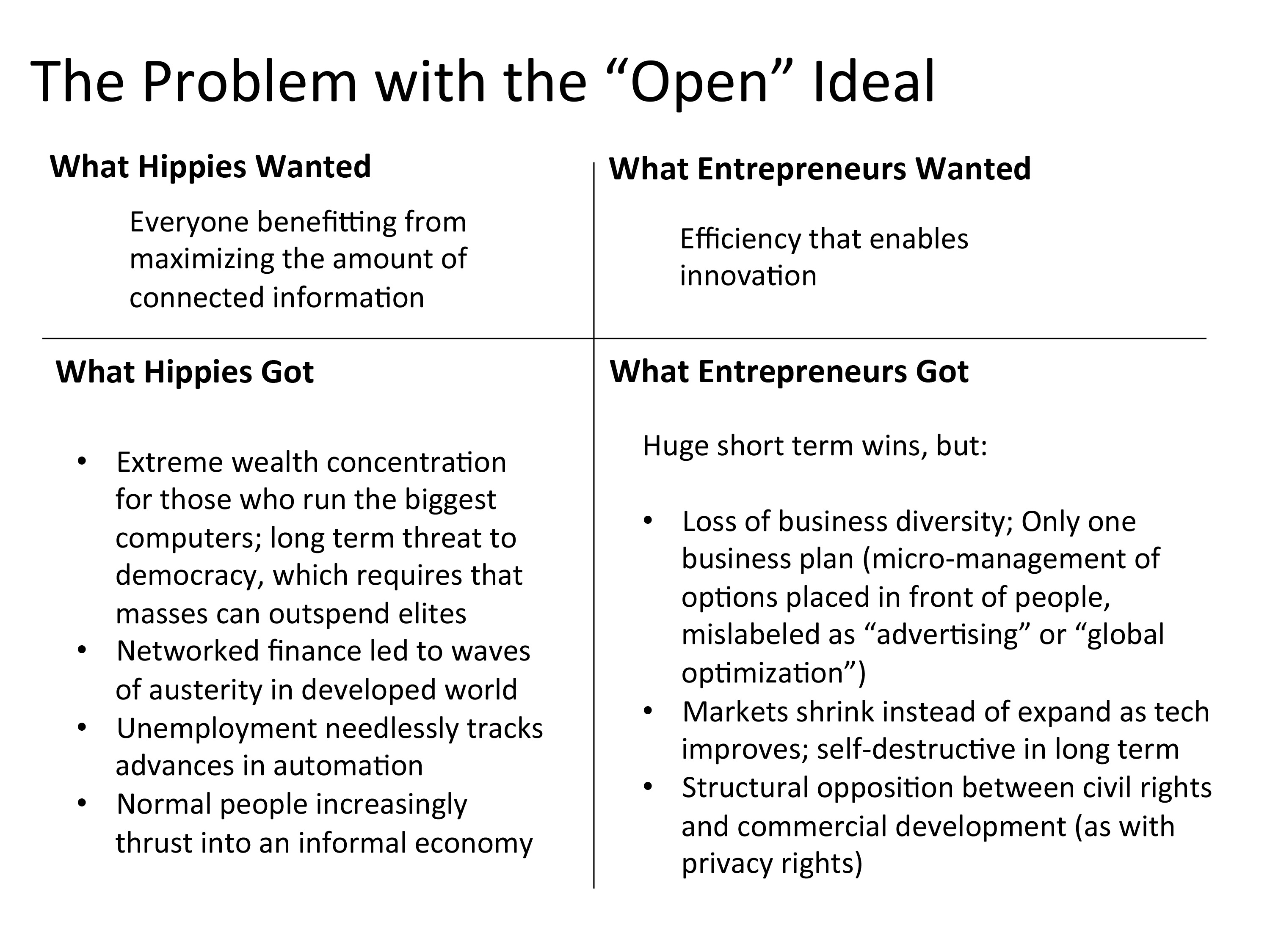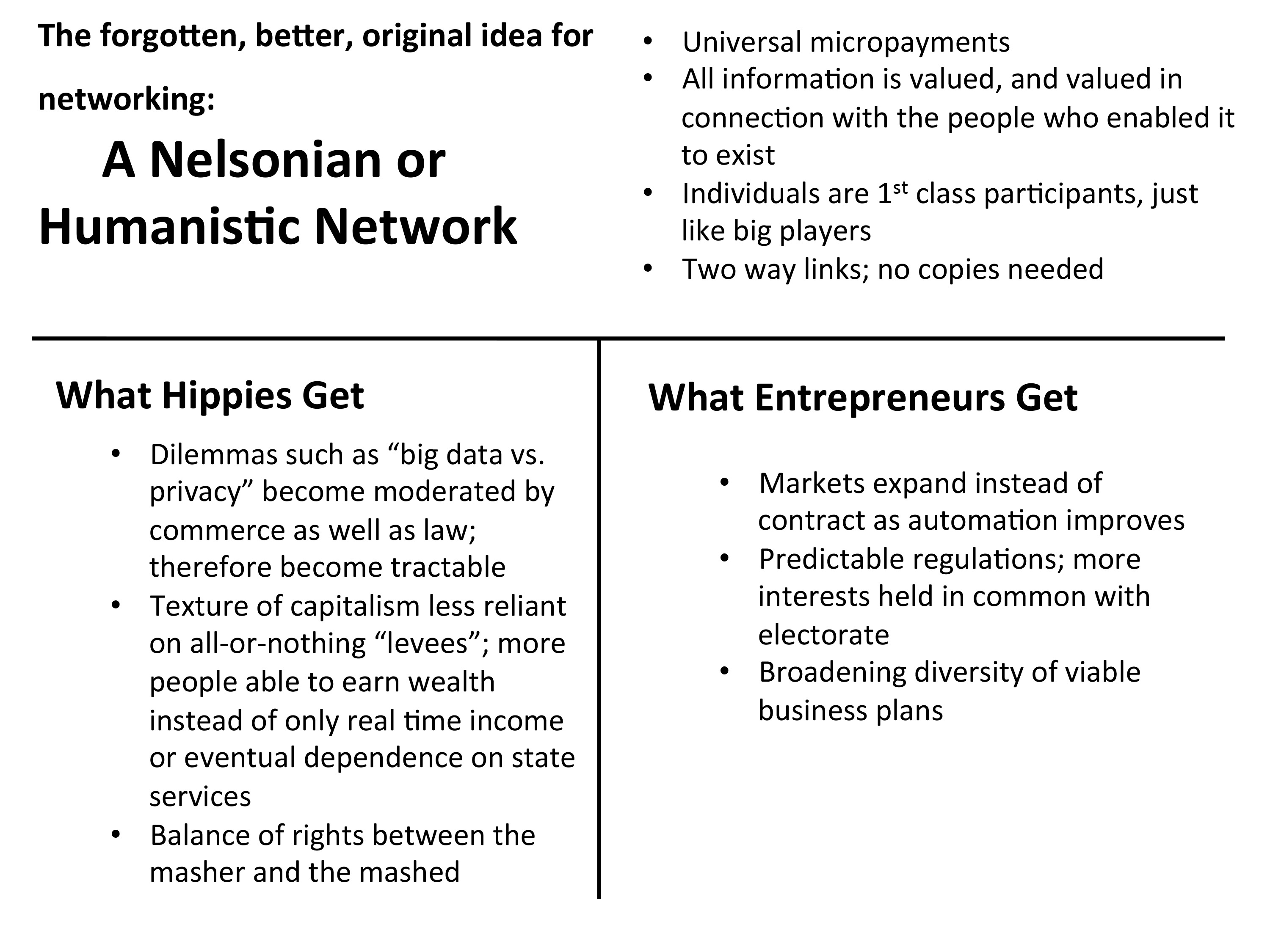 "Who Owns the Future?" Wikipedia page
---

Go back to Jaron's home page.