Together Mode
As an introduction of sorts, here's a story GQ ran on Jaron on August 24, 2020:
- GQ: "The Conscience of Silicon Valley"
And here are some of Jaron's thoughts on how to get the most from Together mode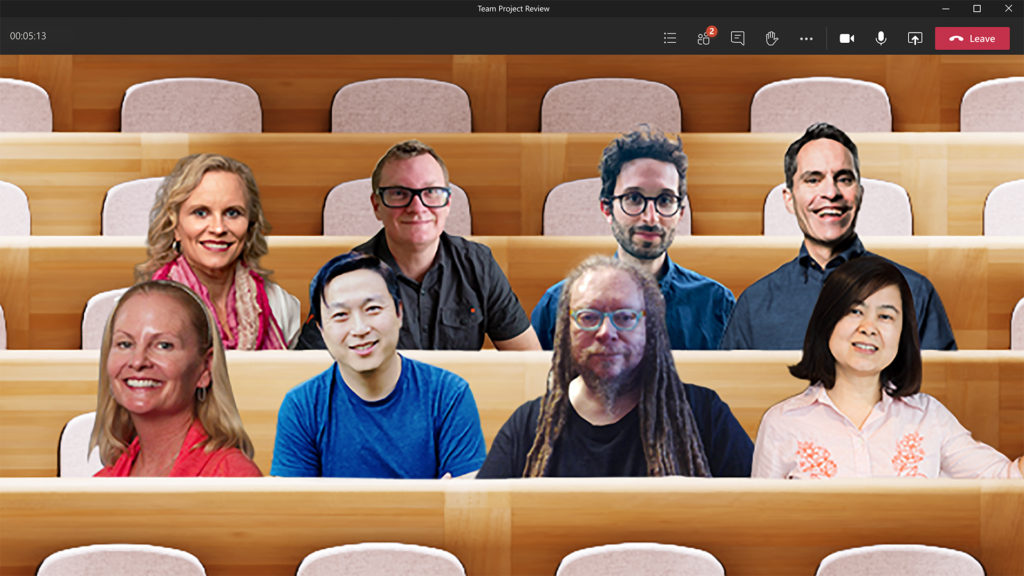 Coverage
USA Today: "Microsoft Teams launches Together mode, places participants in a shared background"
BBC News Video, including an interview with Jaron: "How trickery makes video calls more personal"
Bloomberg: "Microsoft Introduces Virtual 'Theater' Seating to Help Relieve Video Meeting Fatigue"
Business Insider: "Microsoft Teams' new features to use AI and its smart assistant in video conferencing show it's no longer just playing catch up with Zoom"
CNET: "Microsoft's new Together mode in Teams puts your video chat in a shared virtual space"
Cheddar TV: "Microsoft Teams Rolls Out Virtual Rooms to Fight 'Meeting Fatigue"
Digital Trends: "Online learning can't replace classrooms. Microsoft Teams wants to change that"
Fast Company: "Microsoft's new virtual auditoriums look silly—but fight Zoom fatigue"
Protocol: "Microsoft reinvents the video chat grid because virtual meetings are exhausting"
Tech Crunch: "Microsoft makes Teams video meetings less tiring with its new Together mode"
Venture Beat: "Microsoft Teams is getting AI-powered features Together Mode, Dynamic View, suggested replies, and Cortana"
The Verge: "Microsoft Teams' new Together Mode is designed for pandemic-era meetings"
01net (French): "Teams promises to make videoconferencing more natural with its 'Together Mode'"
BDM (French): "New Microsoft Teams: Together Mode, more dynamic views and live feedback for video conference"
Computer World: "Microsoft Teams' new 'Together mode' aims to make video calls more engaging"
MIT Technology Review: "Microsoft's solution to Zoom fatigue is to trick your brain"
Digital Trends (Spanish): "Microsoft Teams Introduces New Features for Remote Work"
Agencia EFE (Spanish): "Microsoft launches a mode for video conferencing that simulates the physical classroom"
IT World Canada: "Upcoming features in Microsoft Teams help make meetings 'less weird'"
PC Watch (Japanese): "Large-scale update to Microsoft Teams such as automatic minutes creation function"
Sina (Chinese): "Zoom should be careful: Microsoft starts to force the video conferencing market"
X Tech (Japanese): "MS to make video conference Teams a virtual auditorium, easy to understand participants"
Business Insider: "Microsoft's Together mode can help address executives' concerns over remote work productivity"
Steve LeVine on Medium: "How Remote Work Could Destroy Silicon Valley"
CNET: "Forget Zoom backgrounds. Microsoft Teams will put you in the same space as your coworkers"
Australian Financial Review: "Microsoft takes lockdown meetings to next level"
Forbes: "Three Cures For Virtual Meeting Fatigue, According to New Microsoft Research"
In popular culture:
Esquire: "An Unexpected Highlight of the NBA Return Is the Big, Dumb Virtual Fan Video Board"
UPROXX: "Ben Schwartz Submitted His Audition To Be An NBA Virtual Fan In Orlando"
Sports Illustrated: "Ben Simmons Wants NBA to Make Sure Virtual 76ers Fans Boo the Team When Struggling"
Variety: "Empty Seats at NBA Games Get Replaced By Big Screens, Virtual Fans, and a Pitch From Michelob"
AdAge: "How Microsoft and Michelob Ultra Brought NBA Fans 'Courtside' in the Orlando Bubble"
AdWeek: "NBA Finds Ways to Get Fans (Virtually) Courtside With Microsoft and Michelob Ultra"
---

Go back to Jaron's home page.