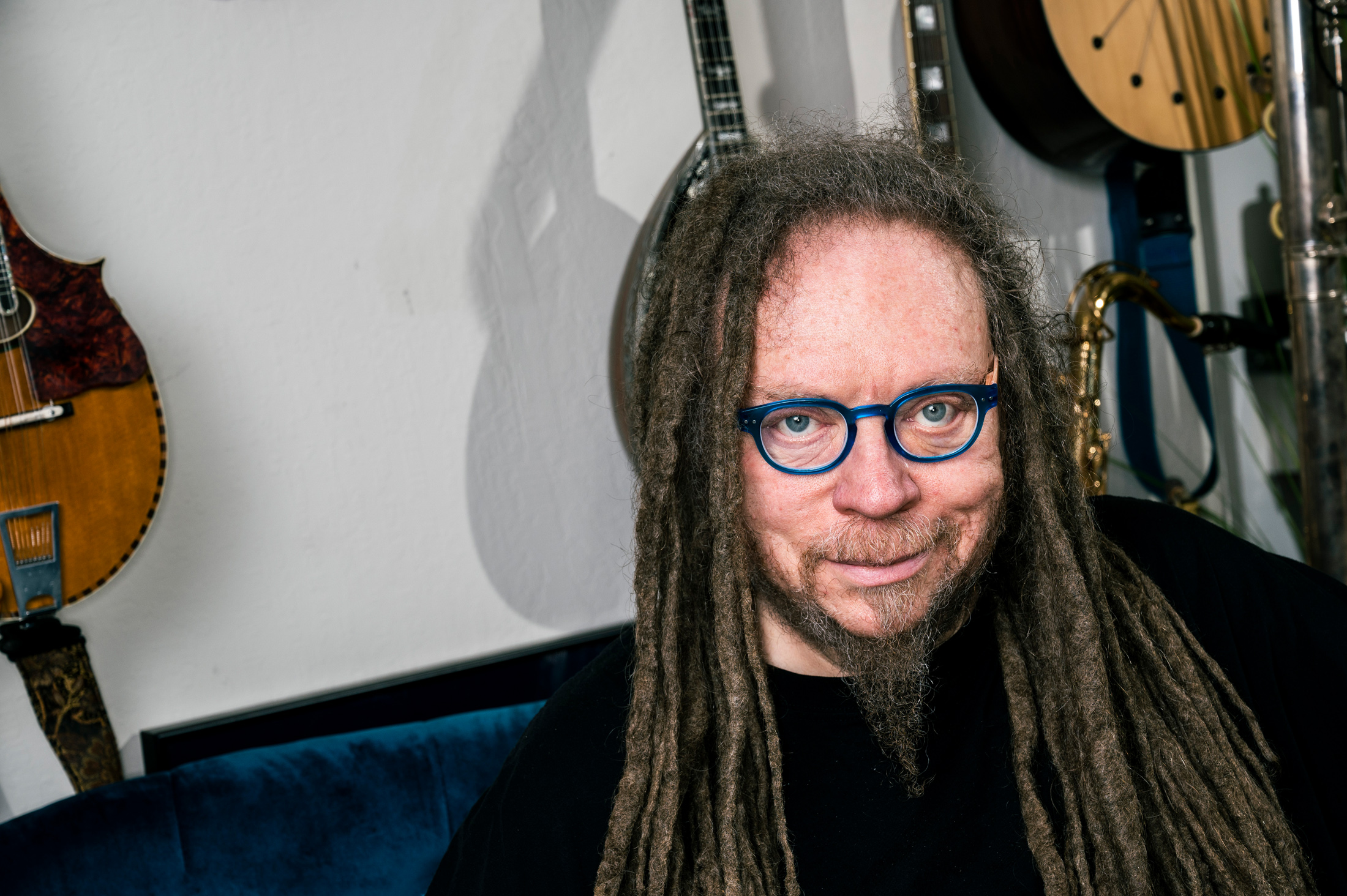 photo courtesy of Winni Wintermeyer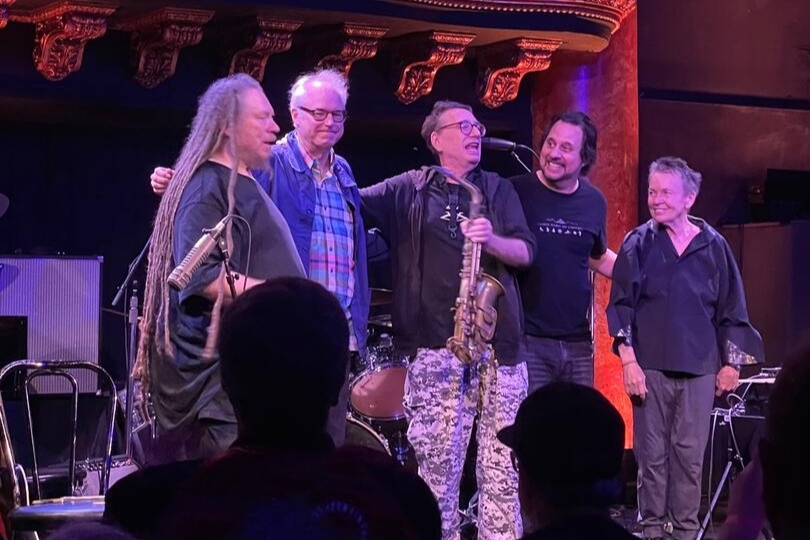 From left to right: Jaron Lanier, Bill Frisell, John Zorn, Dave Lombardo and Laurie Anderson. August 31, 2023 in San Fransisco for John Zorn @ 70.
photo credit: John Taylor
You might have read my piece in The New Yorker about musical instrument obsession, and you might be curious what the music sounds like. The New Yorker's online presentation includes one tune, a trio called "Waves Only Get Real When They Break", with Colin Farish and Jhaffur Khan, in which I play a Taiwanese guzheng harp. (European scholars would classify it as a "zither", but that has diminutive, folk connotations, so I prefer "harp".)
Here are some more tracks you might like to hear, with various other people and with me on various other instruments. This isn't the only kind of music I make, but I might love this stuff the most.*
This music is offered under the usual legal protections and you are not given rights to do stuff with it other than listen. Most of these tracks are works in progress.
If you are curious: My "about the author" in The New Yorker reflects the need to keep my thoughts separate from Microsoft when I'm writing about tech, but comes off weirdly when I'm not writing about tech. The magazine insists on a single bio per author.
---
1. Waves Only Get Real When They Break
- here is the trio piece presented at the top of the New Yorker article, with Colin Farish on piano, Jhaffur Khan on flute, and me on guzheng.
---
2. Tongues in Flight in LA
- just me overdubbing different instruments. The flute I play in this is a Japanese shakuhachi, which is described in the piece, but the style I play on it gradually shifts to Cuban charanga by the end. The other instruments are, well, varied.
3. Piano Seance
- here's me on solo piano (lockdown remote performance)
Video: "Screened Out: an evening with Jaron Lanier" (courtesy of Rhizome DC)
---
4. Live Performance
- in concert with Will Calhoun. Here I'm playing some of the instruments mentioned in the New Yorker piece, like a khaen. The bowed instrument (a baryton) went badly out of tune because we were at a venue by the ocean in Big Sur, so just pretend to not hear that one.
Video: Philip Glass' Days and Nights festival (courtesy of Glass Center/OL)
5. Escape Velocity
- me on piano in concert with Will Calhoun on drums at the Kuumbwa Jazz Center in Santa Cruz.
---
6. Glass Void
- Mark Deutsch has spent decades developing a new instrument called the Bazantar, here paired with me on glass 'armonica.
---
7. Air Flows Over Blocks
- with Haruka Fujii - Haruka on vibes and marimba at the same time, Jaron on Turkish clarinet
---
8. Contintrio
- with Zach Moses and Will Calhoun. In this piece I'm playing an electronic instrument called a continuum.
---
9. Boundary Bound
- vocalist Sussan Deyhim with me on tarhu
---
10. The Water Blues
- with James Gordon Williams - James on piano, Jaron on the same guzheng heard in the trio on the New Yorker site, , but in this case playing the blues.
---
11. Brooding Blues Gets Pierced by Sunlight
- the Free Waves Trio: with Tim Jackson and Zack Olsen. Tim is better known for running jazz festivals (Monterey!) and a club (Kuumbwa!) but he's also a wonderful flute player who has worked with everybody; Zach is here forced to play on an experimental kit, but makes it sound great.
12. Puzzle Pieces in Flight
- the Free Waves Trio (with Tim Jackson and Zack Olsen), here Jaron is playing a new kind of electromechanical keyboard from Brazil called a Valente
13. Midnight Rainbow
- another piece by the Free Waves Trio
---
14. Three Visionary Mice
- duet with Zack Olsen
15. Frantic Metallic
- also with Zack Olsen
---
16. Sweet Quiche Lorraine Hat
- duet with Zach Moses, and Jaron on the Valente
17. Wiggle Warrior
- also with Zach Moses
---
18. Live Performance
- with Barbara Higbie. A touch of comedy.
Video: at Berkeley, CA's The Freight & Salvage March 19, 2021 (courtesy of Irene Young)
---
19. Live Performance
- with David Rothenberg
Video: at London's October Gallery on January 28, 2012 (courtesy of John Whiting)
---
* If you are curious why this music isn't on the usual streaming services, it's because I don't like them. I don't like how they put the download numbers up front so everything becomes a numerical battle, how algorithms decide how to lump musicians together, and how people often listen without knowing who the musicians are. It's not so much that I'm in denial about change, but that I helped bring about the change and must remember what a terrible job my generation of computer scientists did. I don't want to forgive myself so easily.
Jaron Lanier Music Links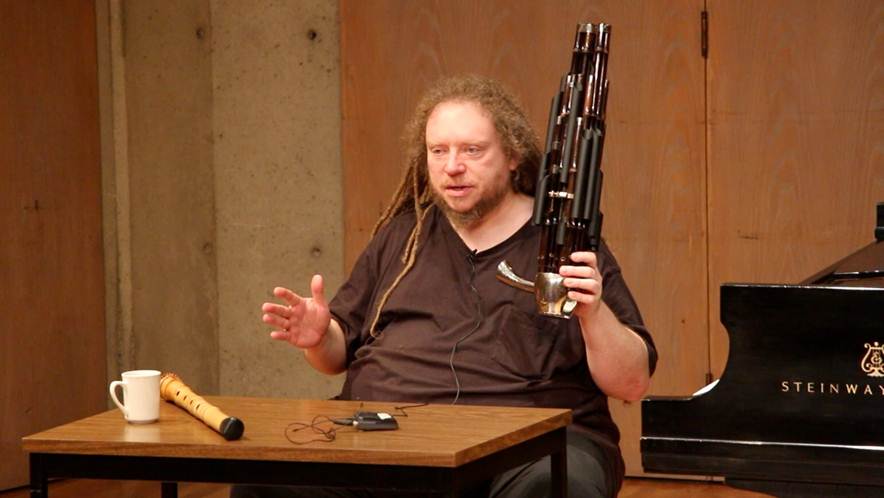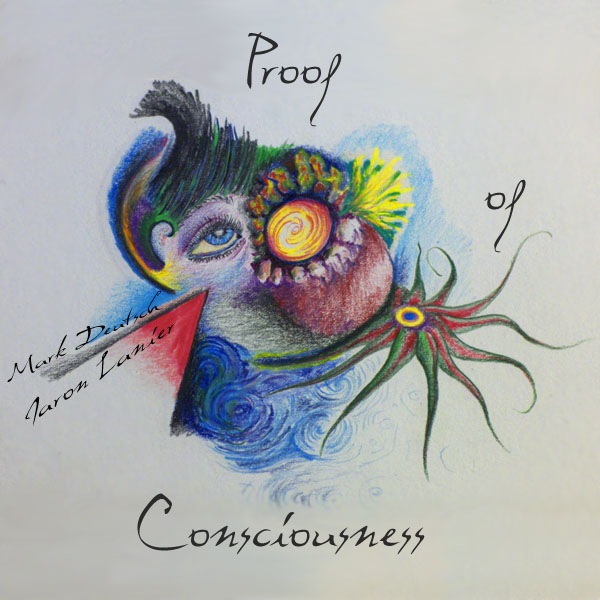 + Drawing by Jaron when he was 17.
God Particle Quartet: Dr. Stephon Alexander, Melvin Gibbs, Jaron Lanier, and Will Calhoun
+ Performing at Chapman University on April 1, 2023

+ Info and images from the MOCA performance on April 10, 2022
"'Hip Hop Science Project' w/ Kwame Holland X Jaron Lanier"
"Fireside Chat with Grimes and Jaron Lanier"
- Jaron in conversation with musician Grimes and Professor Sean M. O'Connor
In You Are Not a Gadget I do my best at using ideas to show that consciousness exists, but "Proof of Consciousness" makes the case better. Duets with Mark Deutsch on Warm and Genuine records.
LISTEN TO A SO-SO RECORDING (from a seat in the audience) OF SYMPHONY FOR AMELIA a symphony/choral work setting the poetry of Amelia Lanier. Premiered at Winter Park Bach Festival.
+ Mario Grigorov and I co-wrote the soundtrack for the documentary "The Third Wave"
Here's a live recording from the Triple Door in Seattle of Jami Sieber, Barbara Higbie, and I playing Jami's song "Hidden Sky" (I'm on shakuhachi flute.)