Current Top Links
Jaron's Writings
"There is no A.I."
- The New Yorker, April 20, 2023
- (Responses to "There is no A.I." from Connie Loizos in Tech Crunch and Derek Robertson in Politico.)
"OY, A.I"
- Tablet Magazine, January 22, 2023
"Trump, Musk and Kanye Are Twitter Poisoned"
- an opinion piece in the New York Times on November 11, 2022
"How to Fix Twitter-And All of Social Media"
- The Atlantic, May 26, 2022
"The Invasion of Ukraine Dramatizes the Folly of 'The Sovereign Individual'"
- with E. Glen Weyl for The Information, February 24, 2022
"How to Fix Social Media: Topple the New Gods of Data"
- Wall Street Journal, October 29, 2021
"How Civic Technology Can Help Stop a Pandemic"
- with E. Glen Weyl for Foreign Affairs, March 20, 2020
"AI is an Ideology, Not a Technology"
- Wired, March 15, 2020
"A Blueprint for a Better Digital Society"
- with E. Glen Weyl for Harvard Business Review, September 26, 2018
Video
"The way we think about A.I. is where the danger is"
- An interview for CNBC's Squawk on the Street
1990s Jaron presenting the VPL Data Glove
Netflix's "The Social Dilemma"
TED Talk: "How We Need to Remake the Internet"
"Data Dignity"
- A series with the New York Times
"Future of Text"
- Frode Hegland 2022 Keynote:
"The Truth About Social Media"
- An interview with TRIGGERnometry
"Virtual Reality, Social Media & the Future of Humans and AI"
-The Lex Fridman Podcast
"Who is Civilization for?"
- Willy Brandt Lecture and Q&A
Audio and Text Interviews
"Tech guru Jaron Lanier: 'The danger isn't that AI destroys us. It's that it drives us insane'"
- The Guardian, March 23, 2023
Jaron joins "Phil & Ted's SEXY BOOMER Show"
- January 10, 2023
"'Extinction is on the table': Jaron Lanier warns of tech's existential threat to humanity"
- The Guardian, November 27, 2022
"The Metaverse: Expectations vs. Reality"
- Jaron on the Wild West of the metaverse and why Facebook should be paying you
"Silicon Valley Sharknado"
- Maureen Dowd's opinion piece from July 8, 2014 culminating in an interview with Jaron
"City Arts & Lectures"
- In conversastion with Jennifer Egan on May 15, 2022
"Was the Internet a Horrible Mistake?"
- The Honestly podcast with Bari Weiss
Academic Papers
"Surreal VR Pong: LLM approach to Game Design"
- proposing that prompt-based creation can become part of gameplay rather than just part of game development
"Steps towards prompt-based creation of virtual worlds"
- showing that prompt-based methods can also accelerate in-VR level editing, as well as can become part of gameplay rather than just part of game development
"Non-local Field Theory from Matrix Models"
- showing that a class of matrix theories can be understood as an extension of quantum field theory which has non-local interactions
"A Cubic Matrix Action for the Standard Model and Beyond"
- proposing a new framework for matrix theories that are equivalent to field theories on a toroidal spacetime
"Model of Illusions and Virtual Reality"
- discussing the possibility to induce illusions in which users report and behave as if they have entered into altered situations and identities
"The Rocketbox Library and the Utility of Freely Available Rigged Avatars"
- discussing the importance of rigged avatars for the Virtual and Augmented Reality (VR, AR) research community
"Autodidactic Universe"
- presenting an approach to cosmology in which the Universe learns its own physical laws
"AllTogether: Effect of Avatars in Mixed-Modality Conferencing Environments"
- discussing TogetherMode as a response to a perceived need for avatar-supported meeting attendance
"HoloARt: Painting with Holograms in Mixed Reality"
- a system that allows the user to turn their physical environment into a canvas where digital holograms and physical objects co-exist in the real and virtual world
Other Links
"The Decentralized Mystique"
- An opinion piece for CoinDesk discussing Jaron's research with Glen Weyl on how on Bitcoin's early years undermines its foundational myths of privacy through pseudonymity and decentralization
"So ... What If Aliens' Quantum Computers Explain Dark Energy?"
- A wild thought experiment with physicist Stephon Alexander
"The Conscience of Silicon Valley"
- GQ Profile
"Bringing Us Together"
- The story of Microsoft's Together Mode
Jaron Lanier Music Links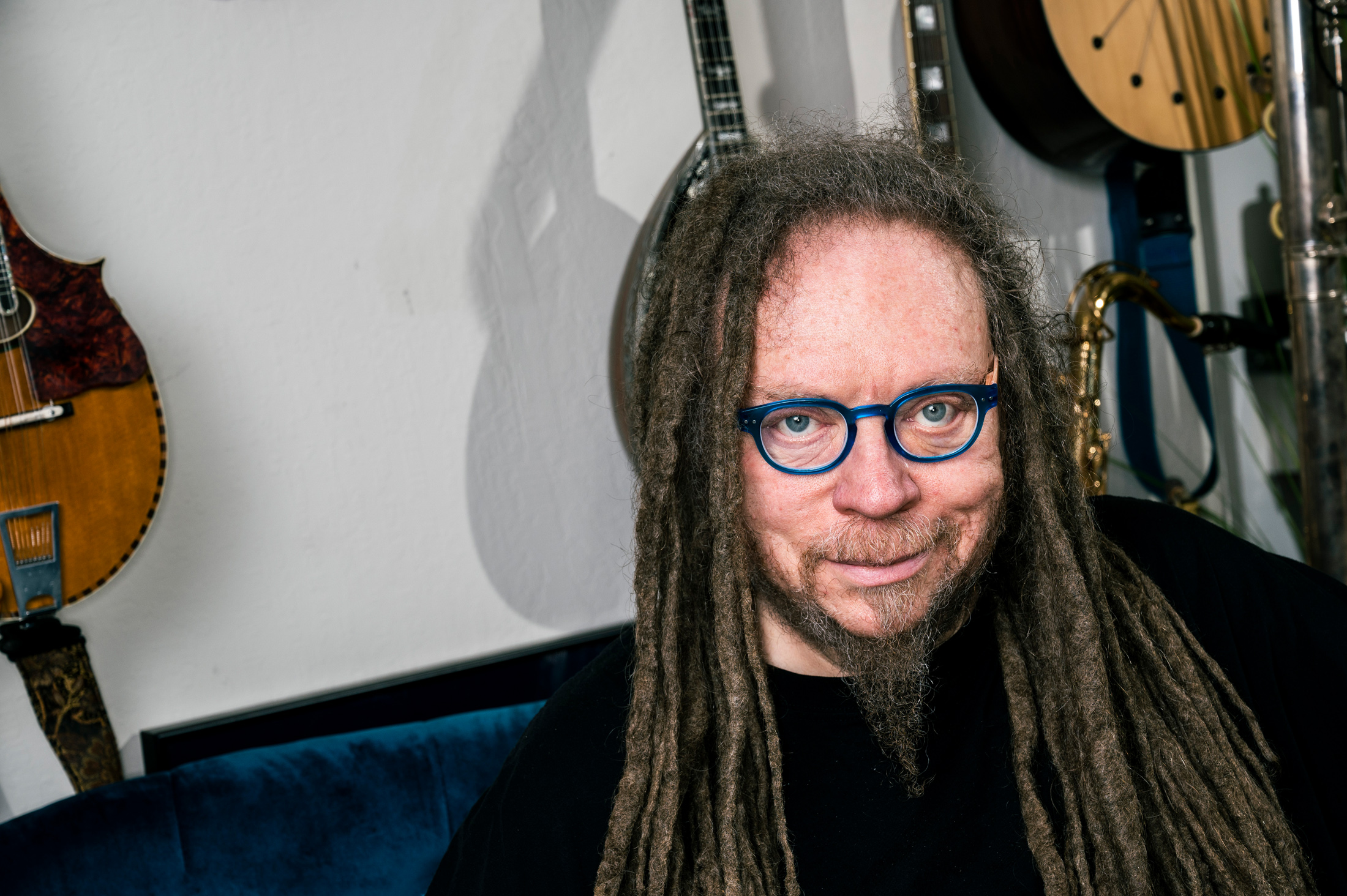 photo courtesy of Winni Wintermeyer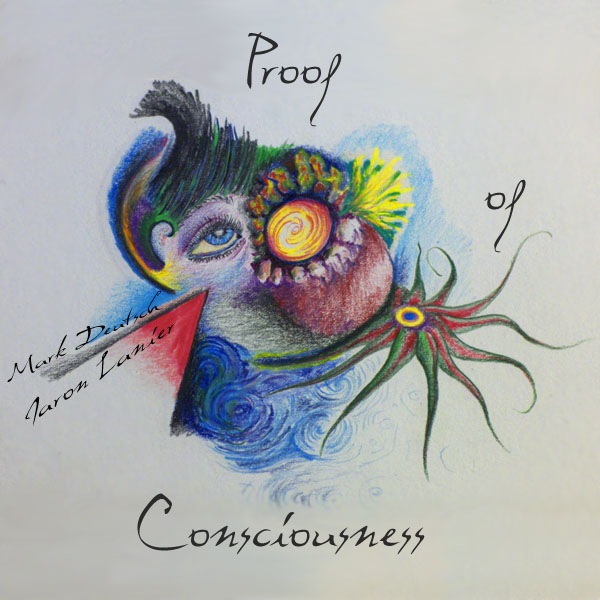 + Drawing by Jaron when he was 17.
Jaron in concert with Will Calhoun at one of Philip Glass' Days and Nights festivals in Big Sur
God Particle Quartet: Dr. Stephon Alexander, Melvin Gibbs, Jaron Lanier, and Will Calhoun
+ Performing at Chapman University on April 1, 2023

+ Info and images from the MOCA performance on April 10, 2022
"'Hip Hop Science Project' w/ Kwame Holland X Jaron Lanier"
"SCREENED OUT: an evening with Jaron Lanier + Public Figures + Programmes"
- hosted by Rhizome DC
"Fireside Chat with Grimes and Jaron Lanier"
- Jaron in conversation with musician Grimes and Professor Sean M. O'Connor
Video of Jaron with Barbara Higbie on March 19, 2021
Video of Jaron Lanier and David Rothenberg playing in London
In You Are Not a Gadget I do my best at using ideas to show that consciousness exists, but "Proof of Consciousness" makes the case better. Duets with Mark Deutsch on Warm and Genuine records.
LISTEN TO A SO-SO RECORDING (from a seat in the audience) OF SYMPHONY FOR AMELIA a symphony/choral work setting the poetry of Amelia Lanier. Premiered at Winter Park Bach Festival.
+ Mario Grigorov and I co-wrote the soundtrack for the documentary "The Third Wave"
+ Here's a live recording from the Triple Door in Seattle of Jami Sieber, Barbara Higbie, and I playing Jami's song "Hidden Sky" (I'm on shakuhachi flute.)